Trotter brings mobility to outdoor signing
Inspired by the world trend of mobility and combined with flexibility, the Trotter was created. The first industrialized mobile billboard. This mobile billboard reaches your audience at almost any place, at any time. Trotter.eu specializes in physical communication.
Do you have a challenge for us?  We are happy to get started for you!
About Trotter
The Trotter has proven itself as the best solution for temporary outdoor advertising. After its success in the Netherlands, Trotter.eu started to grow internationally and is now available in various countries, and is still growing thanks to local partners and new branches.
Thanks to its beautiful appearance, the Trotter fits well into the streets. It's very suitable for various purposes such as action marketing, signage, event communication or an outdoor exhibition. The image carrier is formed by a broad plastic frame with double sided, printed PVC tarpaulins. These canvases can be illuminated from the inside and can easily be changed on location. It ensures that the Trotter is ideally suited for temporary outdoor advertising.
The Trotter can be placed on almost any surface. We do not anchor the base into the ground, which ensures that you don't have to worry about cables and pipes laying underground. Handy, right?!
Sustainability
Sustainability has been a major theme at Trotter.eu ever since its inception. We constantly strive to make our production process more sustainable. Most of the materials we use for the Trotter are recyclable. In addition, the Trotter isn't a disposable product, but a sustainable alternative with a long service life. The mobile billboards were born from this thought. Because production takes place in-house, we save both on CO2 and unnecessary transport from abroad. The business model is in sharing the products as opposed to selling them. This also benefits the circular economy.
Contact
Our team is ready for all your questions. Click the button below and enter your details. We will contact you as soon as possible.
Prefer direct contact? Give us a call!
Recent projects
Anton Pieterson
2019-10-15T15:13:16+00:00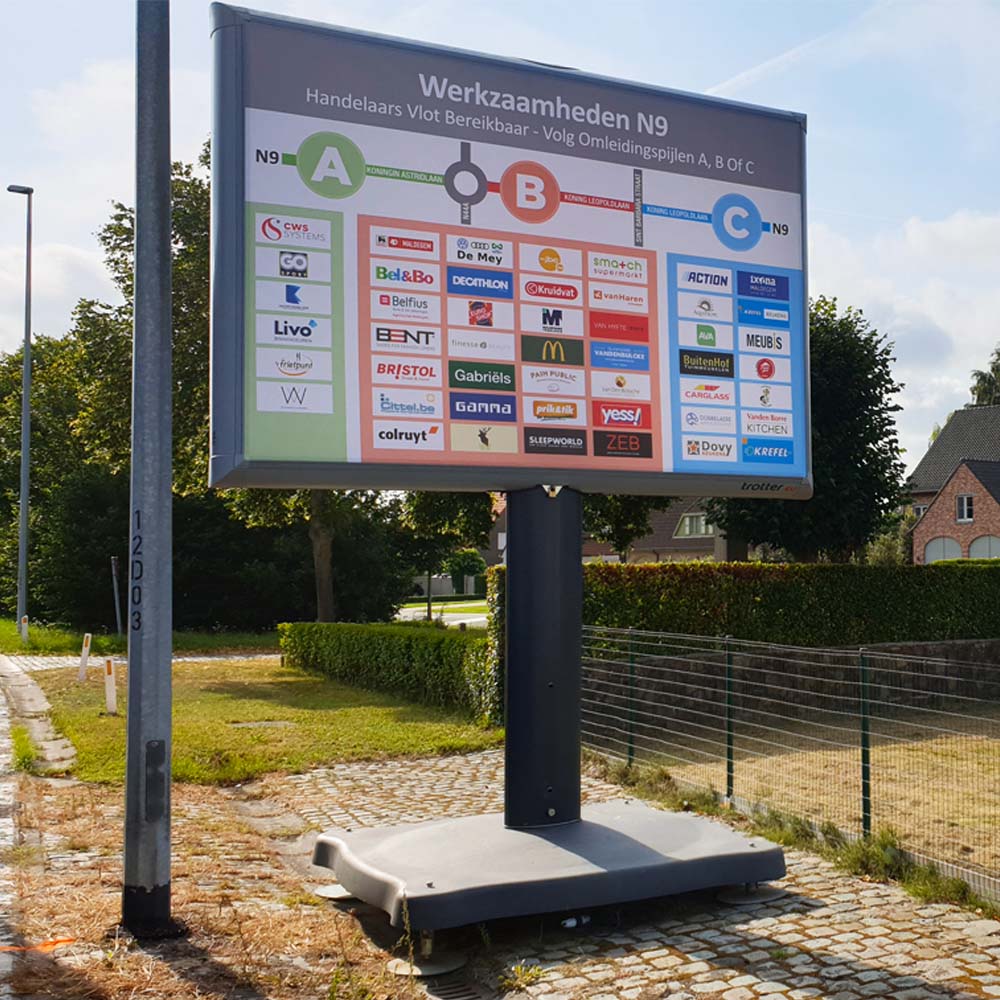 Case: Traffic and Road Maldegem
Locatie: Maldegem
More info »
Anton Pieterson
2020-10-06T09:31:05+00:00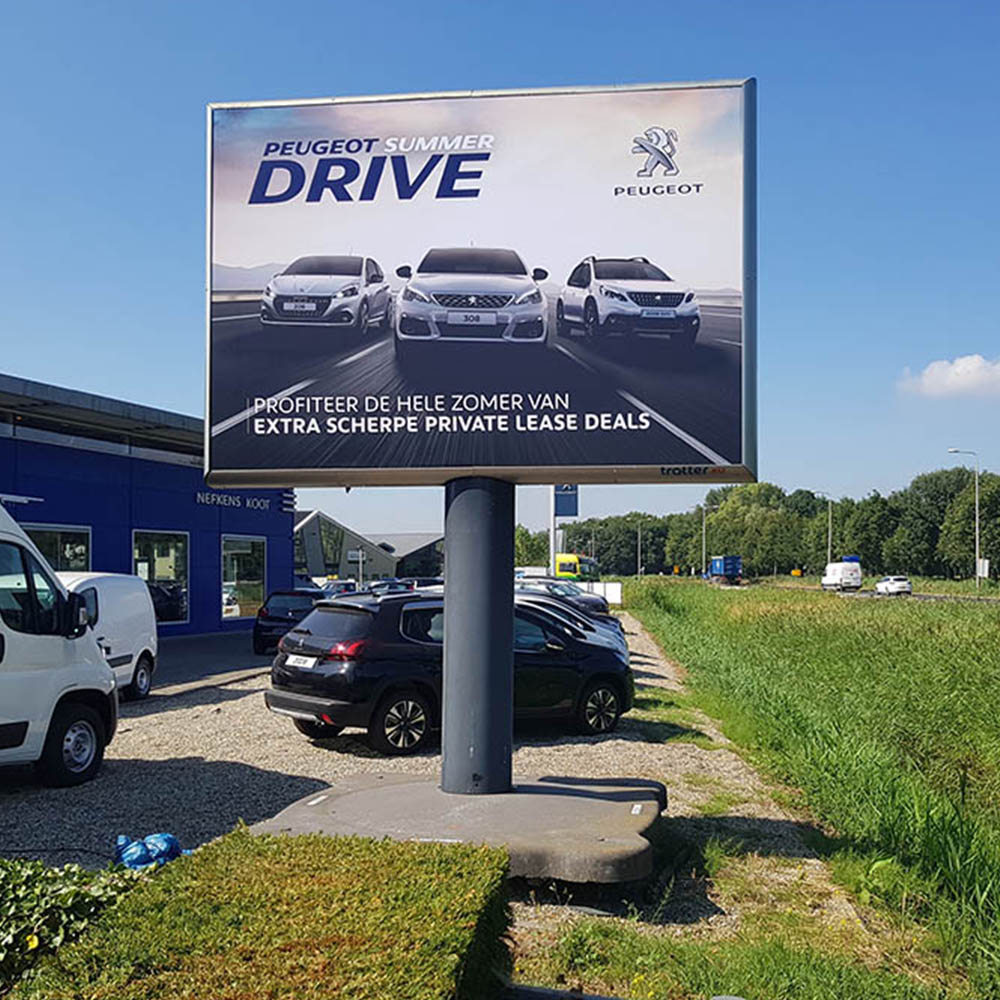 Case: Outdoor advertising campaign Summerdrive
Location: The Netherlands
More info »
go2people
2019-08-23T09:49:30+00:00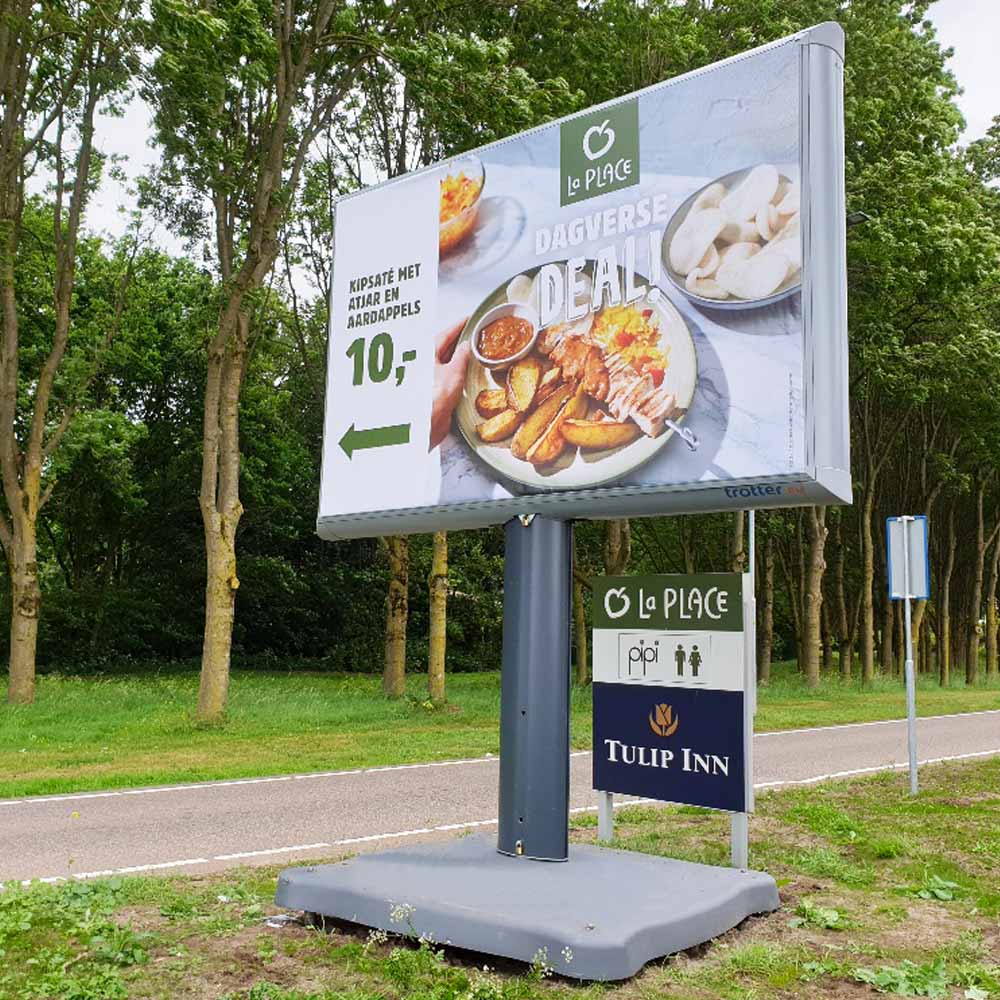 Case: Uniform Outdoor Signing La Place
Location: The Netherlands
More info »