Project with " Traffic and Road" Maldegem Belgium
Trotter avoids the maze of small signs and thereby creates an overview
Clear communication during construction work
Case
Project with "Traffic and Road" agency Maldegem Belgium
Client:
47 local participants, (Initiated by McDonalds Maldegem)
Scope:
4 Trotter Large Landscape
Project Description:
We placed 4 Trotter large for the Belgium Agency "Traffic and Road" during road construction work on the N9 road in the Maldegem area. The Trotters where placed on four approach roads. This was for a period of five months. The initiative was a cooperation between local retail business owners and the local government. With this initiative we give every retail business owner a chance to communicate there attainability during the road construction work. The communication was organized in a structural and schematic way.  The complete attainability was captured in one picture.
Our Trotters are fitted with a build-in light. Thanks to this the Trotter was lighted and visible 24/7.
Trotter
Trotter is a high quality, two sided mobile billboard. We signaled a demand for a temporary billboard for public spaces  so we developed the Trotter in a sustainable way.  Trotter is the answer for cases in the current communication landscape in public spaces. This mobile billboard is always in service for the communicated message. All together the Trotter is the best choice for communication to the public during road construction or other local governmental events.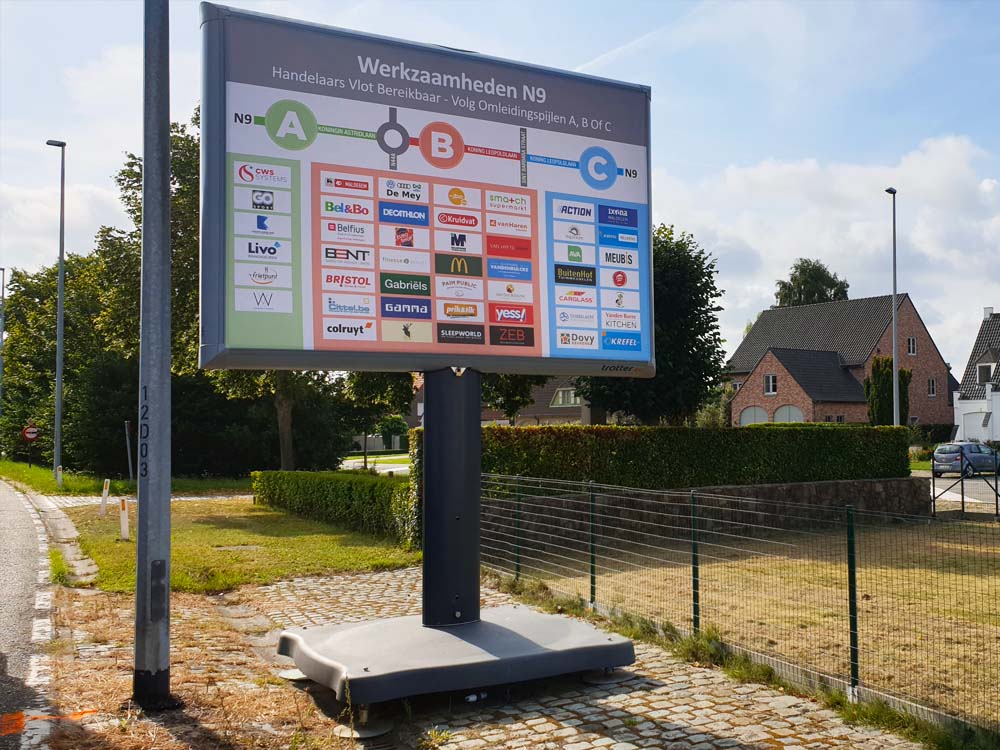 "This is a perfect example of a successful cooperation between local retailers/ The Agency " Traffic and Road" and the Council. Due tot he Trotter we have avoid a ravel of signs of the local retail whom are affected by the road construction work. Also the clarity of the actual road signs are not compromised".